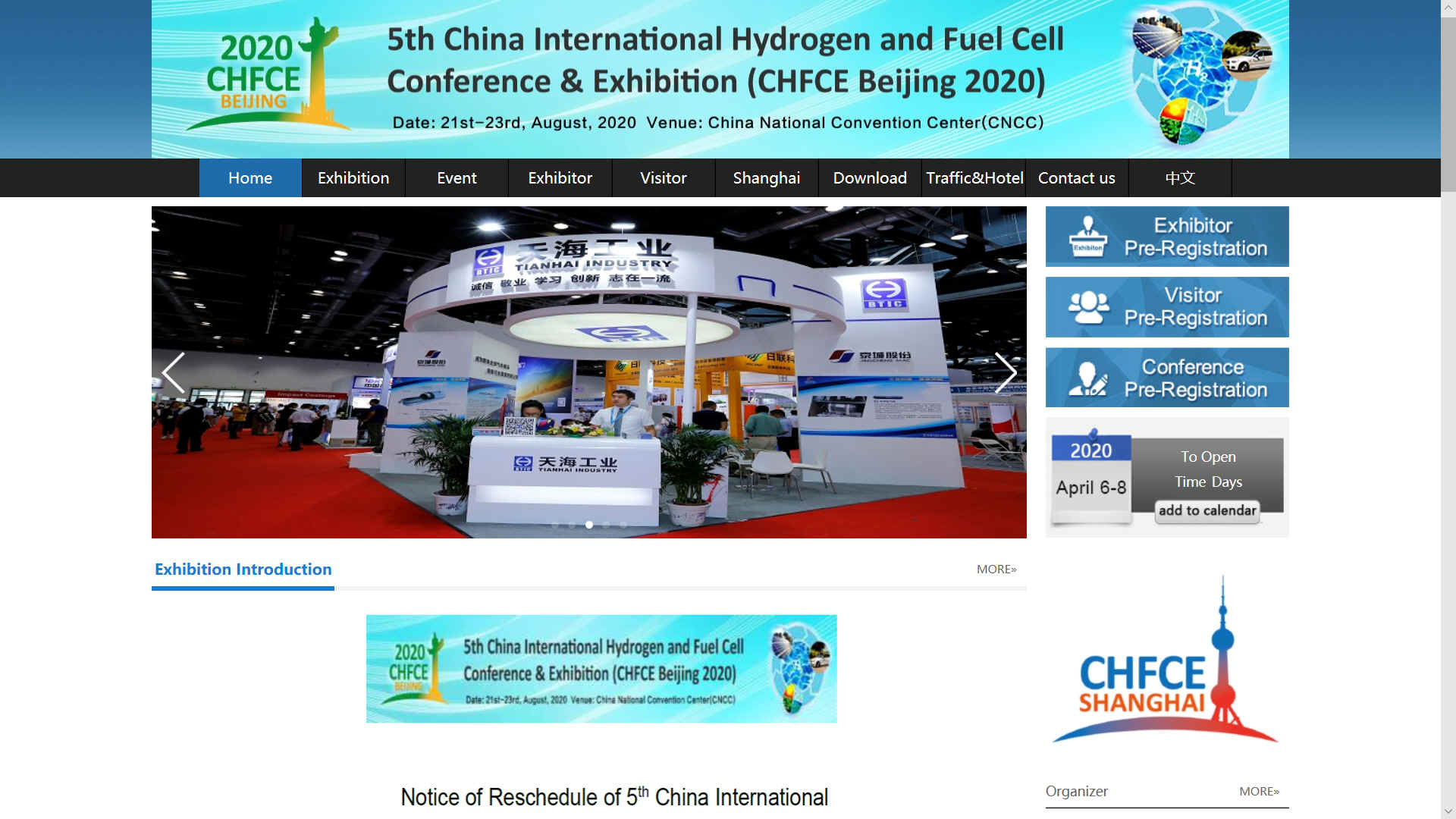 This event has been rescheduled from September
ABOUT CHINA INTERNATIONAL 21-23 AUGUST 2020

1、Hydrogen Product Technology Area

Hydrogen Production Technology and Supply: Hydrogen production equipment/technology, reforming equipment/technology, polytechnic hydrogen production equipment/technology (natural gas steam reforming, dissociated methanol, coal hydrogen production, water electrolysis, chemical hydrogen production, renewable energy hydrogen production),
hydrogen production companies, surplus hydrogen suppliers, Methane/propane/butane/methanol, pure hydrogen, synthetic hydrogen, mixed hydrogen, gasoline/kerosene/solvent oil, hydrogen detection instrument.

Hydrogen Storage and Transportation and Related Equipment: hydrogen storage tanks, hydrogen sensors, distributors, hydrogen storage alloy, hydrogen storage related materials, hydrogen refilling stations equipment, hydrogen refilling/dehydrogenation equipment, hydrogen transportation tubes, valves, pipes, special transportation vehicle;

Related Equipment: Gas Turbine/Steam Turbine, Inverter/Converter, Absorption Freezer, Other Heat Treatment Technology, Other Thermal Energy Related Equipment, Pure Water
Manufacturing Equipment, Grinder/Dispenser/Mixer, Cleaning Equipment,
Furnace/Drying Furnace/Burning Furnace, computer-aided manufacturing, etc.

Hydrogen Applications: Hydrocracking technology and equipment, hydrogen reduction protection technology, oil hydrogenation technology, organic synthesis technology, etc.

2. Fuel Cell Technology Area

Fuel Cell Systems and Applications: PEMFC, AFC, MCFC, SOFC, PAFC, PBI-PEMFC;DMFC,MAFC and other fuel cell systems productions, hydrogen engine etc;

Applications: Communication base stations (backup power / emergency power), transportation vehicles (cars / forklifts / trams), mobile phones and special markets, other applications;

Fuel Cell Key Components and Supply Technology:

electrodes/catalysts, membrane electrode assemblies, other stack materials, gas diffusion membranes, separators, thermal utilization/thermal technologies, gas-electric symbiosis systems, radiators, heaters, hot water storage tanks, Heat exchangers, supply technology: valves / joints, chemical oxides, compressors, carbon nanotubes, pumps, blowers, and other related product technologies;

Evaluation/testing/analytical instruments: monocell test equipment, electronic load instrument, hydrogen sensor, gas analysis equipment, analysis software (structure, heat, electromagnetic, fluid, noise), electrical property evaluation device, material testing instrument, battery side-emitting device ;

3. Materials, Manufacturing Technology and Equipment Area

Key Components: Catalyst Platinum/platinum carbon catalyst, non-platinum catalyst, etc. Hydrogen Storage Materials: Organic liquid hydrogen storage material, hydrogen storage metal material, hydrogen storage complex, etc.
PEM Membrane Martials: Perfluorosulfonic acid membrane, other proton exchange membrane materials;

Hydrogen Storage Tanks Materials: Carbon fiber, liner metal/non-metal material, etc.

Manufacturing Technology and Equipment: Winding machine (cylinders and storage
tanks), plate forming equipment (bipolar plates), surface treatment equipment (passivation, deposition, strengthening, etc.), precision machining machines, fuel cell assembly lines and intelligent manufacturing systems, design and simulation software , manufacturing software (ERP, MES, PDM, SCM, etc.)

4.Cities and Hydrogen Parks Areas

Hydrogen Refilling Station Infrastructures, Hydrogen Demonstration Area, Provinces/Cities Hydrogen Park, Universities and Research Institutions etc.
ORGANIZERS

Hosted by: China Machinery Industry Federation
China Electrical Equipment Industry Association Fuel Cell Branch

Supported by:

International Association of Hydrogen Energy
Canadian Hydrogen and Fuel Cell Association
China Association for Hydrogen Energy
f-cell, Germany
H2WORLD, Korea

Organized by:

CMIF Brilliance Convention & Exhibition Co., Ltd

Co-organized by:

Beijing CEI Technology
Jiangsu Xingbang Energy Technology Company Limited
Jiangsu Dewei Advanced Materials Co., Ltd
Innoreagen Power Technology Co., Ltd
Beijing Tianhai Industry Co.,Ltd

Co-organized by:

Beijing CEI Technology
Jiangsu Xingbang Energy Technology Company Limited
Jiangsu Dewei Advanced Materials Co., Ltd
Innoreagen Power Technology Co., Ltd
Beijing Tianhai Industry Co.,Ltd

CONTACTS

The Organizing Committee of CHFCE 2020

Tel: +86-010-82194945
Mob: +86-13651156785
Fax: +86-010-82194914

Contact Person: Mr. Yang QQ: 3305676377
Email: admin@chfce.com

Telephone: +86 10 68538687
Mb: +86 159 10580218
Fax: +86-010-82194914

Contact Person: Ms.Chen Wei QQ: 1306600821
Email: chenwei@chfce.com

LINKS & REFERENCE
http://en.chfce.com/index.html
Please use our A-Z INDEX to navigate this site
This website is provided on a free basis to promote zero emission transport in Europe and Internationally. Copyright © Climate Change Trust 2020. Solar Studios, BN271RF, United Kingdom.