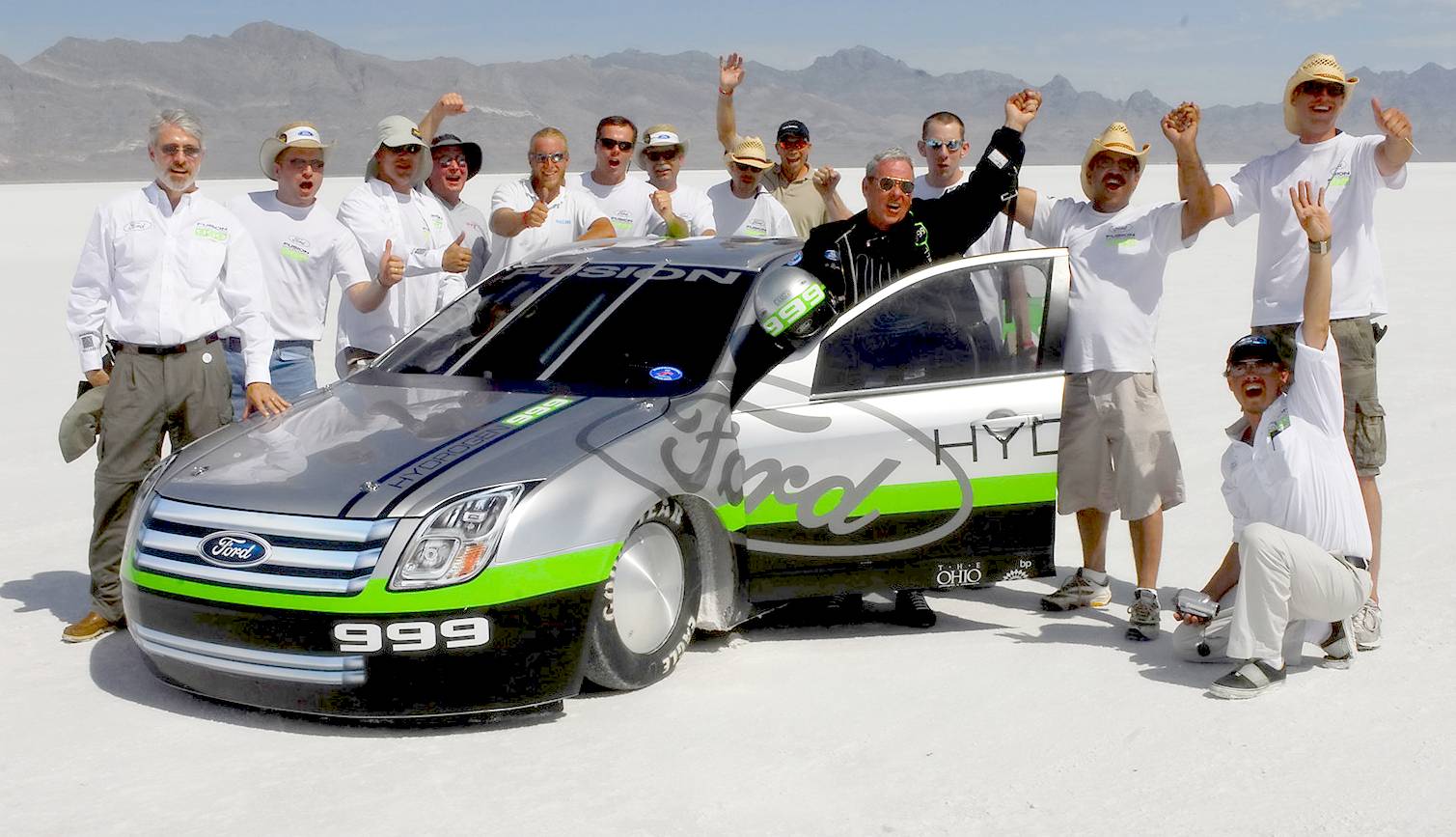 Hydrogen powered vehicles can be fast, as seen here with the 999 Ford Fusion at the Bonneville Salt Flats in 2007. A British team is looking to raise the record above 207 mph in 2021 with their Saxon Bullet car, equipped with hydrogen batteries.
Electric vehicles are powered by an electric motor. This does not include hybrids that are also powered by an internal combustion engine, with secondary electric motors.
Mostly, electric vehicles were battery powered (BEVs), until solar panels were introduced for the popular Darwin to Adelaide solar challenge. Then fuel cells became a practical alternative to batteries, powered by hydrogen (FCEVs). But the tractive force was still an electric motor coupled to a speed controller, but not including including regenerative braking on most FCEVs, because there is no battery (generally) to accept a charge.
Electric vehicles made an appearance in the 1900s, in the 70s and again from 2010. But just recently, OEMs have been making EVs in larger quantities - to comply with clean air rules, requiring zero emissions, to tackle climate change - heralding the demise of diesel and petrol powered buses, cars, vans and trucks.
ENERGY INFRASTRUCTURE
As EVs become more popular, and eventually supplant ICE vehicles, Governments will need to provide large quantities of reliable electricity supplies to be able to cope with demand, and satisfy the needs of the motoring public, those who will be using battery cars and plug-in charging.
In particular, electric heavy goods trucks will require more energy than a grid will be able to supply, hence the need for fuel cell vehicles, powered by hydrogen. But, green hydrogen is produced by splitting water using electricity. Hence, hydrogen powered vehicles, or FCEVs, are still linked to the grid in terms of where their energy comes from.
Now don't you worry about this, there is a solution. The problem is competing interests and policy makers who may also have investments that generate conflicts. We call that Red Flag politics, after the ridiculous laws where a man was required to run in front of an ICE car, while holding up a red flag, the intention being to frustrate motorists, and keep horse drawn stage coaches competitive artificially.
Then again, John Harrison, solved the longitude problem with his marine chronometer, but the academics would not admit it. Even with Captain James Cook endorsing the solution as being indispensable to accurate navigation.
Sounds impossible, but that is how bad people, and how influenced politicians can be, when leading edge development threatens their stake holdings in outdated technology. Unfortunately, it is the wealthy traders who control the politicians with party contributions, an inbuilt conflict of interest, that only survival of the species might overcome.
As to the transition to EVs, most policy makers without conflicts of interest, are sitting on the fence, where they simply do not know how to solve the infrastructure dilemma.
It is possible to provide hydrogen gas and renewable energy for electric vehicles - with load levelling - from one Smart Service Station. Let's see if the clever chaps in the Utilities and OEMs, can figure that one out for themselves. Because if they don't own or control it, they will almost never endorse it.
They've only been working on it for the last fifty years, and thirty years ago they rejected the solution in Australia (Energy Commission), the UK (Dti Smart Awards) and USA (CARB). Such decisions and policy makers, are directly responsible for the global warming crisis we are now in, including the extinction of species resulting from failing to take action in good time.
Only now with climate change looming, and cancer awareness growing, are the policy makers likely to grasp reins.
The A - Z of ICE CARS and MOTORCYCLES SOON TO BE HISTORIC RELICS
Please click on the links above to find out about these famous automotive makers, and if they are producing electric versions of their petrol and diesel vehicles. If your company is not included and you would like to be listed as an EV maker, please let us know.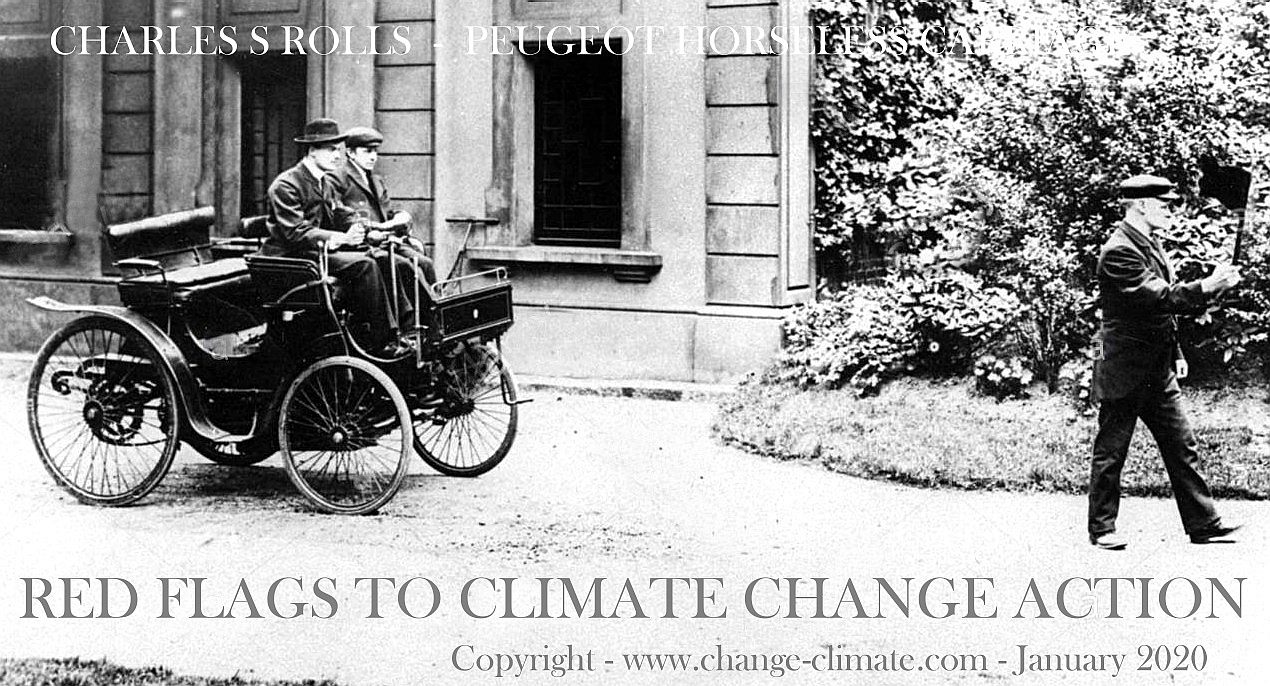 Please use our A-Z INDEX to navigate this site where page links may lead to other sites, or see HOME
This website is provided on a free basis to promote zero emission transport in Europe and Internationally. Copyright © Climate Change Trust 2021. Solar Studios, BN271RF, United Kingdom.