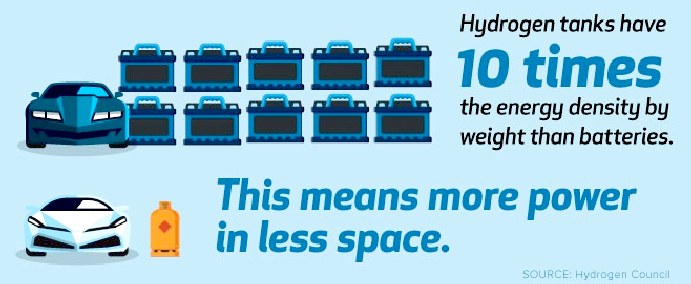 Though the energy density is greater for hydrogen, you then need to add the weight of a fuel cell stack, which detracts from the apparent energy density. Conventional batteries include the conversion mechanism.
Hydrogen powered vehicles offer particulate free transport for cities where diesel engines are choking the population and causing lung cancer. There is an abundance of clean wind and solar energy that can produce green hydrogen, something that at the moment is not happening, but will accelerate as EVs become cheaper.
MONEY WEEK MARCH 2021 - Plug Power's supporters like to point to the fact that the company agreed two joint ventures with French carmaker Renault and South Korean Power company SK Group earlier this year, which caused the share price to double in January. Yet given that previous attempts to boost hydrogen power in South Korea have largely been a flop, especially as there is little in the way of infrastructure, such as refuelling stations, investors shouldn't get too excited.

After the surge in investors' enthusiasm a few weeks ago, Plug Power's share price has started to fall back and it is now down by nearly half from its peak. Nonetheless, given that its shares are still trading at 25 time 2022 revenue, they could go down a lot further. I suggest that you short them at the current price of $40.75 at £50 per $1. Cover your position if they rise above $60.75, which would give you a potential downside of £1,000.
As of March 2022 Plug Power had a market cap of $14.78 Billion. This makes Plug Power the world's 1129th most valuable company by market cap according to current data.
The market capitalization, commonly called market cap, is the total market value of a publicly traded company's outstanding shares and is commonly used to measure how much a company is worth.
Plug Power offers a range of ProGen engines supporting light, medium, and heavy-duty electric vehicles. In asset-intensive applications, fuel cells will always win. ProGen fuel cell engine solutions are ideal because they allow fleets to achieve greater range and payload for the lowest cost of ownership. Plus, fueling is completed quickly so your vehicle can get immediately back to service – much like fueling an on-road vehicle today.
COMPANY HISTORY - TIMELINE

1999: Plug Power becomes a publicly-traded company
1999: Plug Power releases and ships the first fuel cell systems for stationary power
2000: Plug Power enters the European market
2007: Plug Power acquires Cellex and General Hydrogen
2014: Plug Power deploys the GenKey solution for the first time
2014: Plug Power acquires ReliOn
2017: Plug Power completes the first shipment of ProGen fuel cell engines for EVs
2018: Plug Power acquires American Fuel Cell
2019: Plug Power acquires EnergyOr
2020: Plug Power acquires United Hydrogen and Giner ELX
2021: Plug Power completes joint ventures with Hyvia and SK Group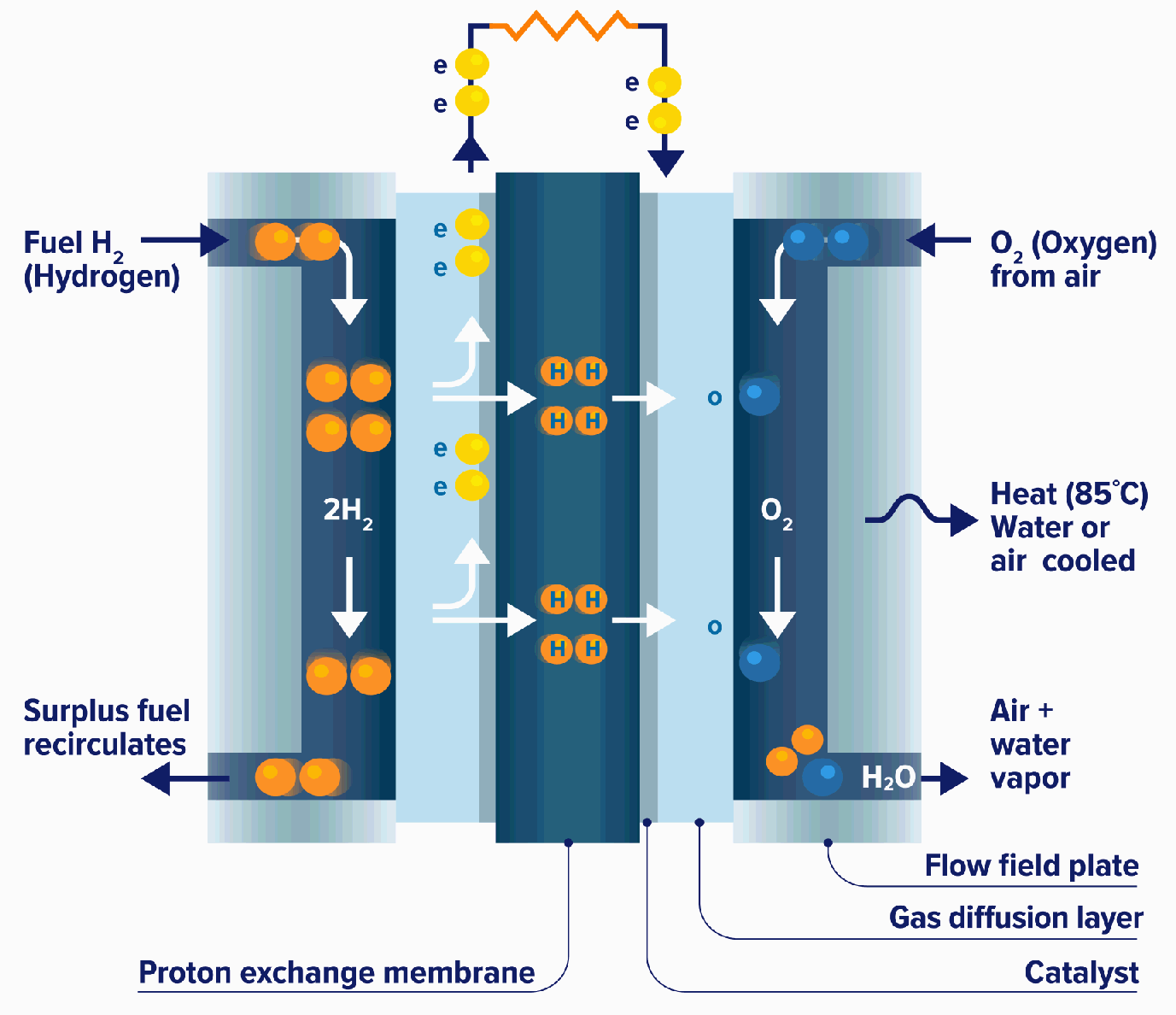 FORBES JANUARY 2021 - RENAULT FORMS FUEL CELL VENTURE WITH PLUG POWER
French automaker Groupe Renault and U.S.-based Plug Power PLUG today announced a memorandum of understanding to create a stand alone joint venture that will develop, build and market electric fuel cell light commercial vehicles (LCVs).

The move is new evidence of growing momentum for a technology automakers once hoped would replace batteries as the power source for electric vehicles, only to fall out of favor due to concern over a lack of refueling infrastructure and safety surrounding the use of flammable hydrogen.

But Plug Power, headquartered in Latham, N.Y., outside Albany, has emerged as the leader in developing fuel cell systems, having deployed more than 40,000 such systems, and has built 110 hydrogen refueling stations.

That's a big reason Renault decided to join forces with Plug Power as it looks to create fuel cell powered light commercial vehicles for business-to-business customers in Europe based on its Master and Trafic truck platforms.

The other reason, said Renault's executive vice president of engineering, is that while the goal is to meet strict European emission standards with electric vehicles, batteries simply aren't up to the task for vehicles Gilles Le Borgne calls "kind of big animals" carrying payloads of more than four tons with 20 cubic meter volumes.

"For those light commercial vehicles you really don't have a solution with BEV because you would need a lot of battery on board, a lot of energy, more than 100 or 120 kilowatt hours and that doesn't make any sense in terms of cost or in terms of weight," said Le Borgne in an interview.

Indeed, while sentiment has grown fairly cold for using fuel cells in passenger vehicles, Plug Power CEO Andy Marsh says the technology is a perfect fit when it's not feasible to wait around for a battery to recharge, which is why the B2B market is embracing it.

"Really folks have been realizing in very intense applications where you want your asset always working, fast charging, fuel cells can fill up in 5-6 minutes, can get twice the range and you also have greater density for packaging," said Marsh in an interview.

The companies said the joint venture is expected to launch at the end of the first half of this year and will create an Innovation Center in France. The target is to capture more than 30% of the fuel cell-powered European light commercial vehicle market.

"This joint-venture project is fully aligned with our strategy to offer market ready H2 solution for LCVs," said Renault CEO Luco de Meo in a release. "With Plug Power, we will build a unique end-to-end fuel cell value chain and offer turnkey solutions for customers including vehicles, refueling stations and decarbonized hydrogen delivery."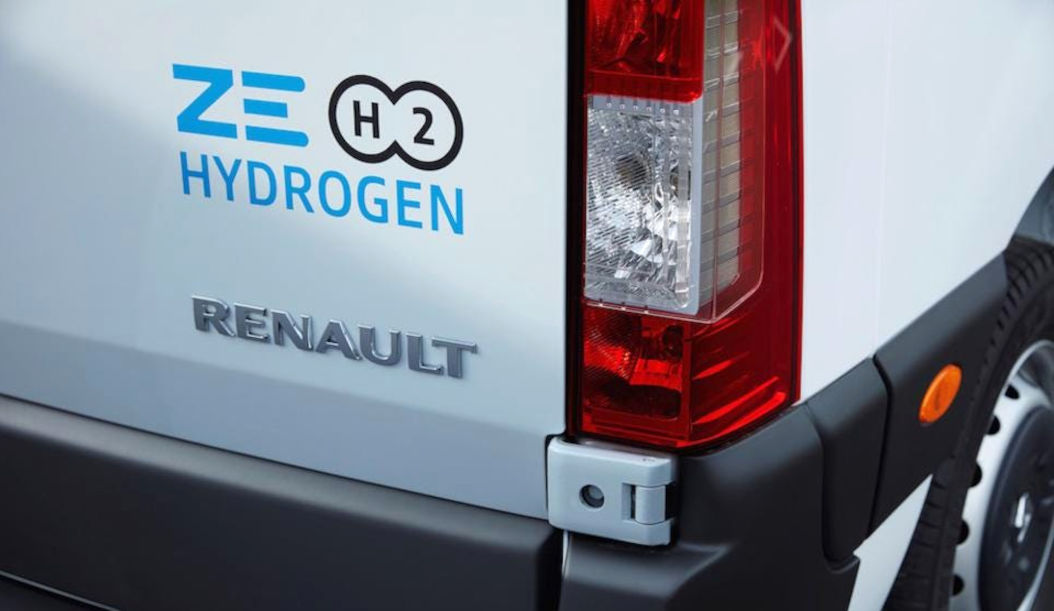 Specifically, the JV will:

- Establish a "vertically integrated" fuel cell stack and system manufacturing center in France that will also provide hydrogen refueling stations.
- Create a hydrogen vehicle "eco-solution company" offering to customers vehicles, hydrogen and hydrogen fueling stations.
- Commercialize fuel cell LCVs in Europe later this year with a pilot fleet

"It will be a full holistic service we offer our customer," said Le Borgne.

For Plug Power, the deal with Renault comes less than a week after announcing a $1.5 billion investment in the company by SK Group, a South Korean business group. In the Jan. 6 announcement, the companies said they are forming a "strategic partnership to accelerate hydrogen as an alternative energy source" in Asian markets and are forming a joint venture by 2022 to support those markets.

SK is making its investment in Plug Power through the purchase of about 51.4 million shares of common stock.

Terms of the deal with Groupe Renault are not being disclosed at this time, according to a spokesman. Santander Corporate & Investment Banking acted as the sole financial advisor to Plug Power.

It all amounts to new energy for fuel cells - not as competitor to batteries, but as an additional and necessary source of electric power more suitable for certain applications says Plug Power's Andy Marsh, because "when I look at the world, the world is going electric." By Ed Garsten
All commercial fuel cells have a similar basic configuration, an electrolyte, permeable membrane and two electrodes, but there are different types of fuel cells based mainly on what electrolyte they use. Fuel cells are stacked and wired in series (just like lithium batteries) to raise the operating voltage.
CONTACTS
Plug Power Head Office
968 Albany Shaker Road
Latham, New York 12110
T:518-782-7700
Sales Inquiries

GenDrive / Material Handling
gendrive@plugpower.com

GenSure / Stationary Backup Power
gensure@plugpower.com

ProGen / On-road or OEM fuel cell integration / Robotics and Aerospace (formerly EnergyOr)
progen@plugpower.com

Hydrogen Electrolyzers (formerly Giner ELX)
electrolyzers@plugpower.com

European Sales Inquiries
saleseurope@plugpower.com

Technical Support

GenDrive / Material Handling (North America)
800.283.1922
gencare@plugpower.com

GenDrive / Material Handling (Europe)
France: +33(0)1 76 54 30 92 (for non-business hours only)
Belgium: +32(0)9337 0825 (for non-business hours only)
serviceeurope@plugpower.com

GenSure / Stationary Backup Power
866.661.0020
gensuretechsupport@plugpower.com
LINKS & REFERENCE
https://moneyweek.com/trading/602902/pull-the-plug-on-this-hydrogen-fuel-cell-stock
https://www.forbes.com/sites/edgarsten/2021/01/12/renault-joins-with-plug-power-for-fuel-cell-jv/
https://companiesmarketcap.com/plug-power/marketcap/
https://moneyweek.com/trading/602902/pull-the-plug-on-this-hydrogen-fuel-cell-stock
https://www.forbes.com/sites/edgarsten/2021/01/12/renault-joins-with-plug-power-for-fuel-cell-jv/
https://www.plugpower.com/
https://companiesmarketcap.com/plug-power/marketcap/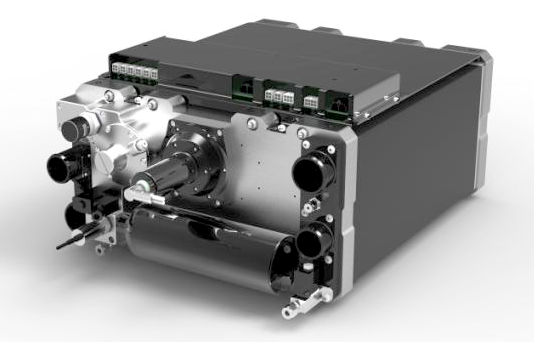 Please use our A-Z INDEX to navigate this site
This website is provided on a free basis to promote zero emission transport in Europe and Internationally. Copyright © Climate Change Trust 2022. Solar Studios, BN271RF, United Kingdom.