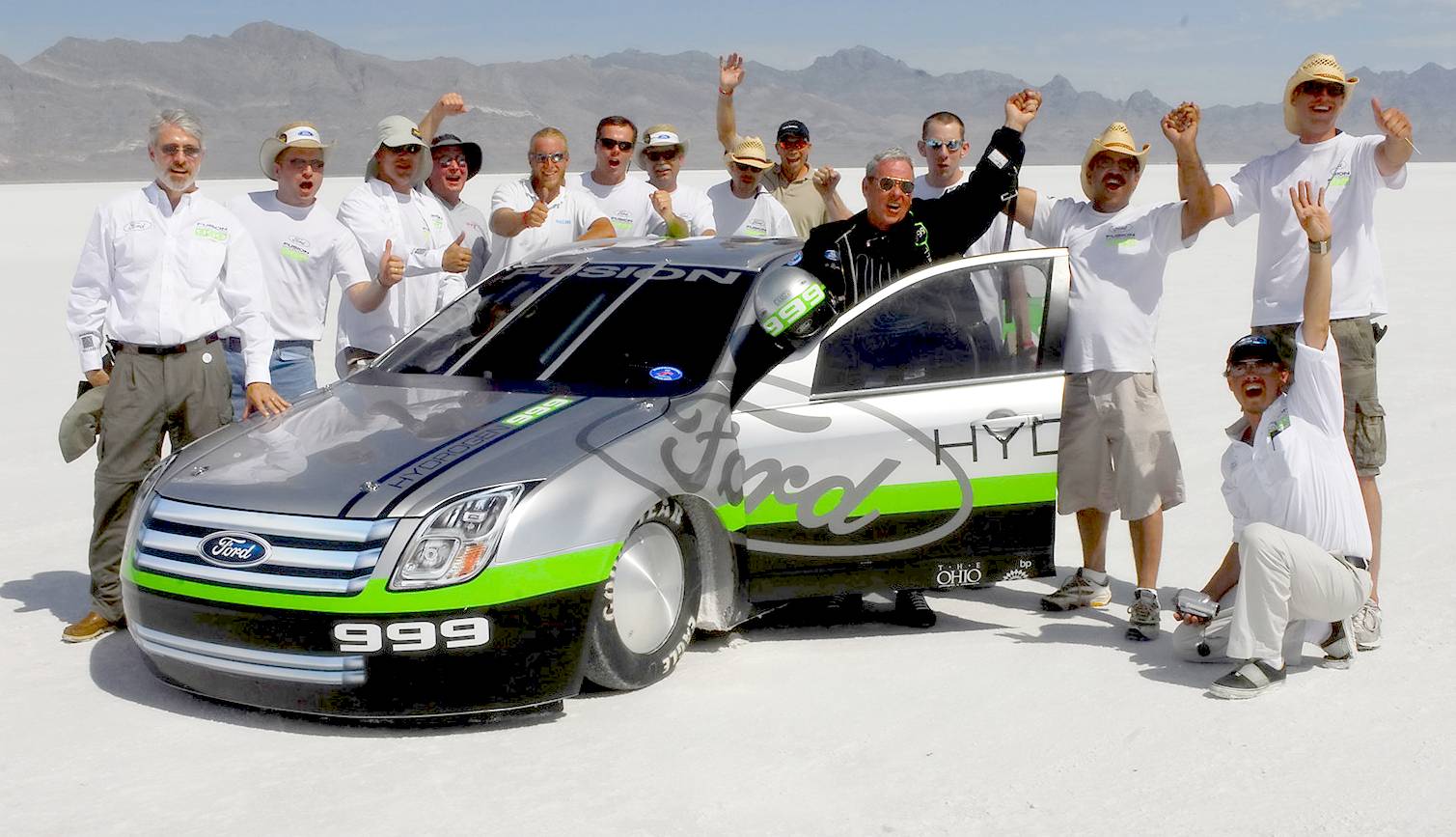 The Ford Fusion team at the famous land speed record race track: Bonneville Salt Flats. In 2019 Hyundai raced a hydrogen fueled production Nexo on the Flats, reaching 106 mph. In 2020, a British team designed a hydrogen battery for the Saxon Bullet, to attempt to beat Ford's record at Pendine Sands at a date yet to be announced. As it stands, these are the only hydrogen fuel cell powered LSR projects.
FORD PRESS RELEASE 2007 - FORD SETS LAND SPEED RECORD WITH FORD FUSION HYDROGEN 999 FUEL CELL RACECAR

Ford Motor Company made history today by reaching 207.279 mph with the Ford Fusion Hydrogen 999, the world's first production-based hydrogen fuel cell race car.
The Ford Fusion Hydrogen 999 is Ford's latest environmental innovation, another step on the road toward commercially viable hydrogen fuel cell vehicles.
The car was designed and built by Ford engineers in collaboration with Ohio State University, Ballard Power Systems and Roush.
WENDOVER, Utah, August 16 2007 - Ford Motor Company today became the world's first automaker to set a land speed record for a production-based fuel cell powered car. The Ford Fusion Hydrogren 999 fuel cell car raced to 207.297 mph at the Bonneville Salt Flats in Wendover, Utah to set the record.

The Ford "999" is the world's first and only production vehicle-based fuel cell race car. It was built in collaboration with Ballard Power Systems, Roush and Ohio State University and is one of two vehicles demonstrating the potential of fuel cell technology. Ford researchers also are supporting student engineers from Ohio State University on its Buckeye Bullet 2, a streamliner-type fuel cell-powered racer attempting 300+ mph.
HENRY FORD - The Model T is famous as the first mass produced car, that many people could afford. It is arguably the first people's car. The next people's car was the Volkswagen Beetle and after that the Austin Mini. Though the Citroen 2CV and many other lesser volume produced cars should get a mention.
What is not so well known is that Henry set a land speed record on January the 4th 1912, Henry Ford set a land speed record on ice at 91.37 mph on the frozen surface of Michigan's Lake St. Clair. He was driving a four-wheel vehicle, dubbed the "999," with a wooden chassis and an upright steering wheel.
What we've accomplished is nothing short of an industry first, said Gerhard Schmidt, vice president, Research & Advanced Engineering for Ford Motor Company. No other automaker in the world has come close. We are excited to have accomplished something never before done. We established this project to advance fuel-cell-powered vehicles and to do what has never been done before; and we did it.

Schmidt said Ford's historic run at Bonneville will further expand the company's technological horizons with fuel cell-powered vehicles, because the use of hydrogen as a fuel could someday play a key role in meeting the energy needs of the transportation sector. The Ford Fusion Hydrogen 999 is Ford's latest environmental innovation and is another step on the road toward commercially viable hydrogen fuel cell vehicles.

The speed was reached during a run at the Bonneville Nationals, which are being held from Aug. 10-17.

The Ford Fusion Hydrogen 999 land speed record vehicle was designed by Ford engineers and built by Roush in Allen Park, Mich. Ford engineers leveraged the 2004 Buckeye Bullet's electric motor, while Ballard Power Systems supplied the 400 kW hydrogen fuel cells. Ford retiree Rick Byrnes, a veteran Bonneville racer, piloted the Ford Fusion Hydrogen 999 on its record breaking run.

Ohio State students have designed their streamliner, dubbed Buckeye Bullet 2, from the ground up. Ballard donated the hydrogen fuel cells for Ohio State's car, Roush its engineering services and Ford has provided overall project coordination and expertise in fuel cell drivetrains.
ALL CHANGE 2030
We have relied on petrol (gasoline) and diesel vehicles for transporting people and goods, but they have proved damaging to the environment and human health, in part causing global warming and lung cancer.
The EU, G20 and United Nations, have between them set targets to stop the sales of new ICE powered vehicles. In the EU this is 2030. In the UK it is 2035.
In no small measure, recognition of the urgent need to do something to reverse climate change was due to the millions of schoolchildren who organized mass protests around the world - spurred on by the efforts of the remarkable Swiss striker Greta Thunberg.
TRANSPORT
If we want a practical solution within the next 10 years, hydrogen has many obstacles to overcome, where battery exchange recharging by swapping packs is already making headway in China and India, and is sure to become more popular as a way of instantly recharging EV's and also load levelling generation from solar and wind electricity.
One potential solution under development is a Dual Fuel service station where energy packs can include hydrogen as the storage medium. With such a system, instead of competing with batteries, hydrogen interests can work alongside battery concerns to build a comprehensive transport infrastructure.
LINKS & REFERENCE
https://www.hyundainews.com/en-us/events/sema-2019?tab=videos
www.prnewswire.com/news-releases/hyundai-engineering-teams-attempt-land-speed-records-with-nexo-fuel-cell-suv-and-sonata-hybrid-for-2019-sema-show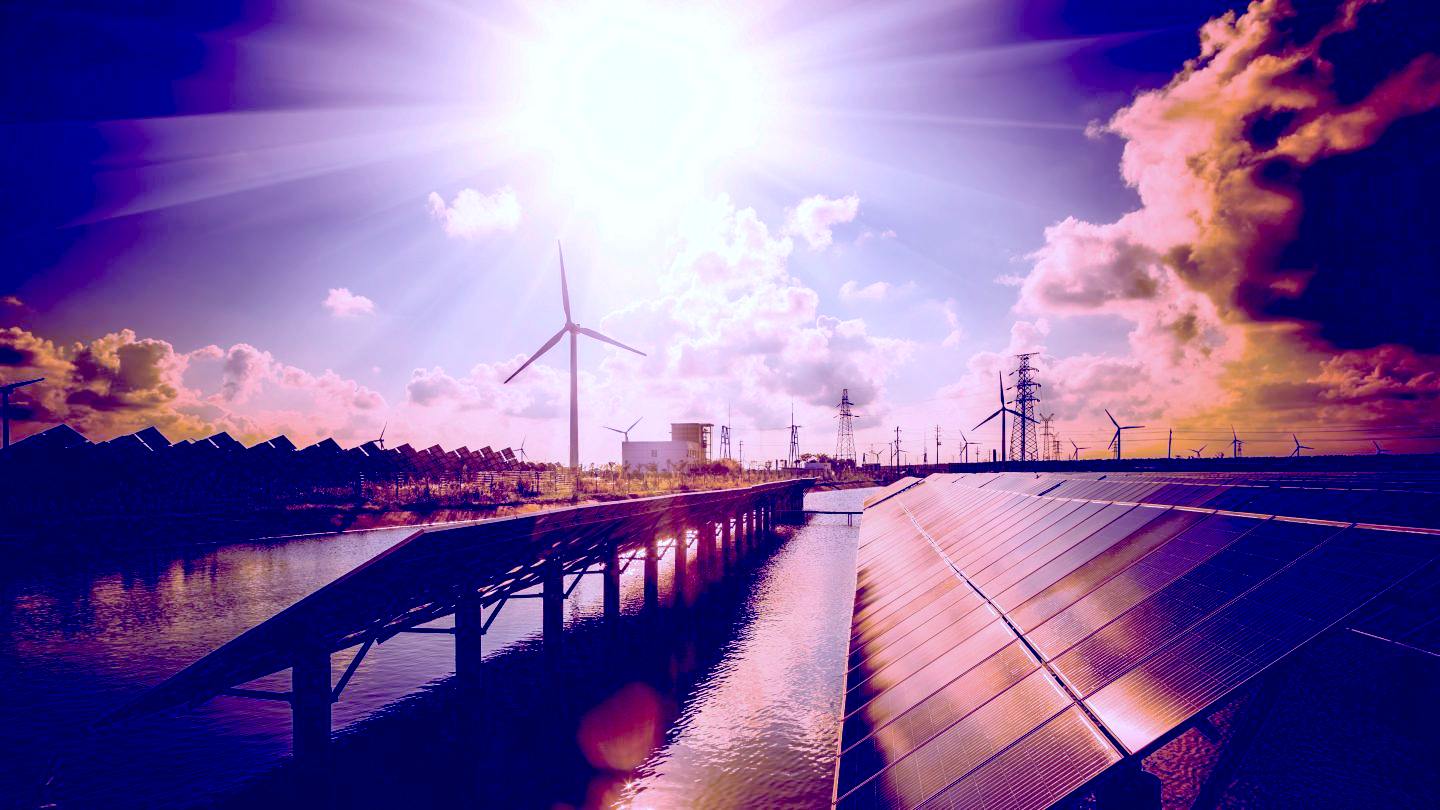 Hydrogen powered vehicles are becoming more popular, especially buses in cities, where diesel particulates are choking the population. There is an abundance of clean wind and solar energy that can produce green hydrogen, something that at the moment is not happening.
Please use our A-Z INDEX to navigate this site
This website is provided on a free basis to promote zero emission transport in Europe and Internationally. Copyright © Climate Change Trust 2020. Solar Studios, BN271RF, United Kingdom.