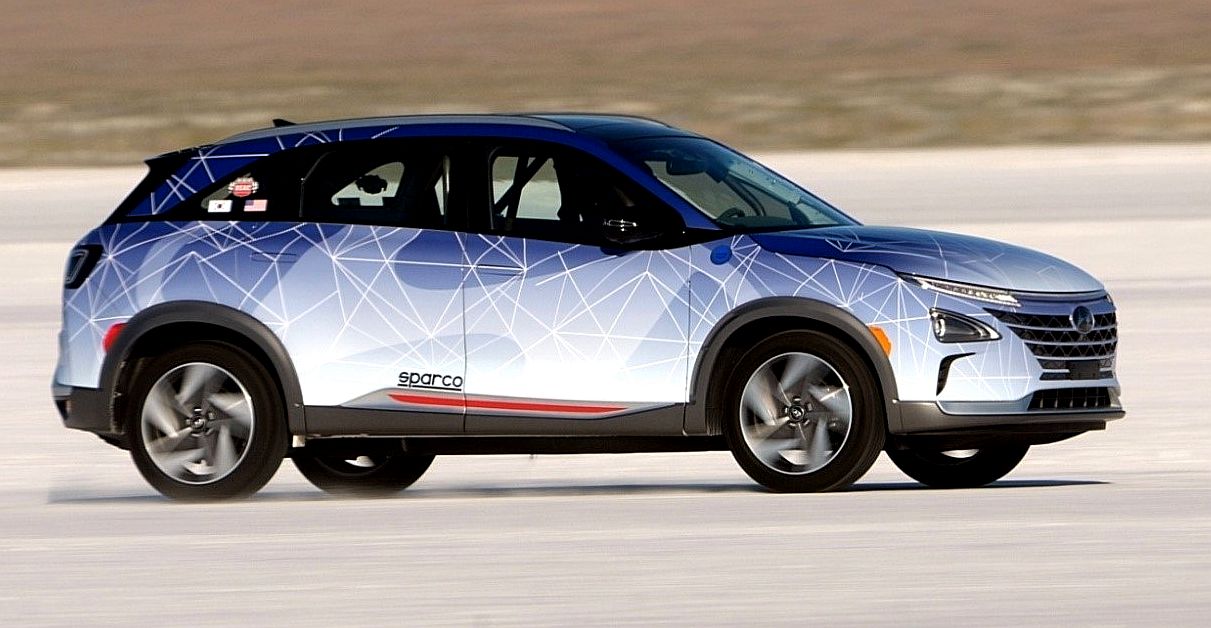 WENDOVER, Utah and BONNEVILLE SALT FLATS, Utah, Oct. 22, 2019 /PRNewswire/ -- Hyundai engineering teams from both sides of the Pacific attempted two new land speed records for the NEXO Fuel Cell SUV (106.160 mph) and Sonata Hybrid (164.669 mph) at the Bonneville Salt Flats on September 25, 2019 (both records are subject to FIA homologation). The two eco-focused concepts were developed and tested by Hyundai America Technical Center, Hyundai Motor America and Hyundai Motor Company engineering teams for display at the 2019 SEMA show in Las Vegas, Nevada.
In 2007 Ford set a land speed record for a modified Fusion, dubbed 999 after Henry Ford's land speed record car in 1912. A British team is looking to set a hydrogen record with their Saxon Bullet, a car that uses hydrogen batteries.
OCTOBER 2019

Utah's Bonneville Salt Flats is a well known temple of speed. You can show up with any type of car and set a land speed record, which is exactly what Hyundai did with their Nexo.
The Hyundai Nexo hydrogen fuel cell SUV is not considered to be very sporty in stock form, but in its category it performed rather well.

The Nexo reached 106.160 mph on the salt, which Hyundai claims is a record for a fuel cell vehicle. The record breaking car was mostly stock, with modifications made primarily for safety. Hyundai fitted a roll cage, fire suppression system, and a Sparco seat with six-point harness. An "under-bumper aero valance" was also added to improve aerodynamics, according to Hyundai.

This isn't the first time Hyundai has brought green cars to Bonneville. In 2016, a Hyundai Ioniq Hybrid hit 157.825 mph on the salt, setting a record for production-based hybrids. Hyundai has also developed a battery-electric version of its Veloster hatchback for circuit racing.

Hyundai NEXO Fuel Cell SUV modifications

The Hyundai NEXO attempted a land speed record for the hydrogen fuel cell category of 106.160 mph (record subject to FIA homologation). Following are the modifications to the Hyundai NEXO fuel cell SUV:

Safety

FIA-Approved Chromoly Safety Cage
Sparco ERGO Safety Seat
Sparco 6-point safety harness
SPA Technique Firesense by FireAde Suppression System
AutoPower Safety Window Nets
Simpson Racing Arm Restraint Nets

Body

Custom Body Wrap by Hyundai Design Center of Irvine
High-Speed Under-Bumper Aero Valence

Hyundai vehicles are sold and serviced through more than 830 dealerships nationwide and nearly half of those sold in the U.S. are built at Hyundai Motor Manufacturing Alabama. Hyundai Motor America is headquartered in Fountain Valley, California, and is a subsidiary of Hyundai Motor Company of Korea.
ALL CHANGE 2030
We have relied on petrol (gasoline) and diesel vehicles for transporting people and goods, but they have proved damaging to the environment and human health, in part causing global warming and lung cancer.
The EU, G20 and United Nations, have between them set targets to stop the sales of new ICE powered vehicles. In the EU this is 2030. In the UK it is 2035.
In no small measure, recognition of the urgent need to do something to reverse climate change was due to the millions of schoolchildren who organized mass protests around the world - spurred on by the efforts of the remarkable Swiss striker Greta Thunberg.
TRANSPORT
If we want a practical solution within the next 10 years, hydrogen has many obstacles to overcome, where battery exchange recharging by swapping packs is already making headway in China and India, and is sure to become more popular as a way of instantly recharging EV's and also load levelling generation from solar and wind electricity.
One potential solution under development is a Dual Fuel service station where energy packs can include hydrogen as the storage medium. With such a system, instead of competing with batteries, hydrogen interests can work alongside battery concerns to build a comprehensive transport infrastructure.
LINKS & REFERENCE
https://www.hyundainews.com/en-us/events/sema-2019?tab=videos
www.prnewswire.com/news-releases/hyundai-engineering-teams-attempt-land-speed-records-with-nexo-fuel-cell-suv-and-sonata-hybrid-for-2019-sema-show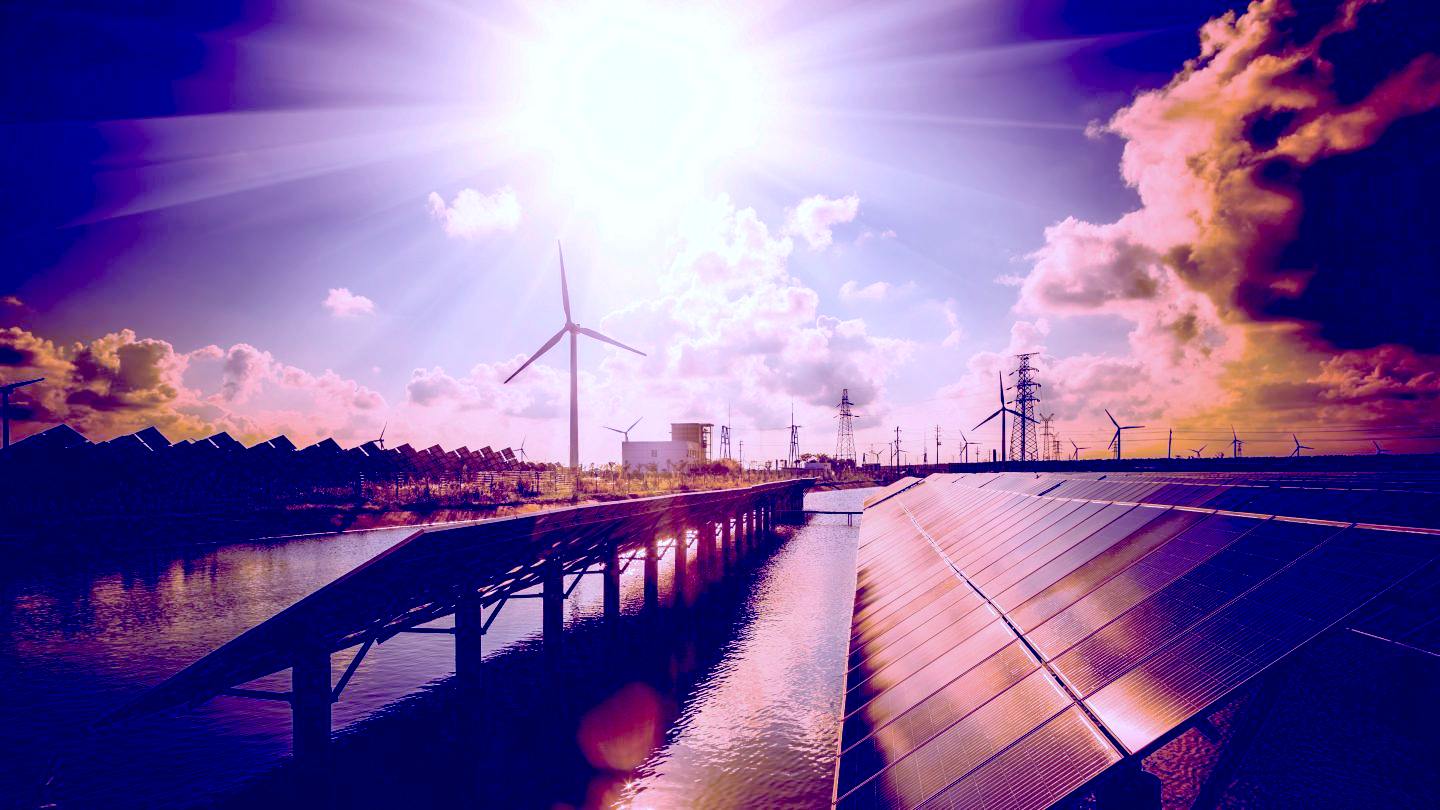 Hydrogen powered vehicles are becoming more popular, especially buses in cities, where diesel particulates are choking the population. There is an abundance of clean wind and solar energy that can produce green hydrogen, something that at the moment is not happening.
Please use our A-Z INDEX to navigate this site
This website is provided on a free basis to promote zero emission transport in Europe and Internationally. Copyright © Climate Change Trust 2020. Solar Studios, BN271RF, United Kingdom.