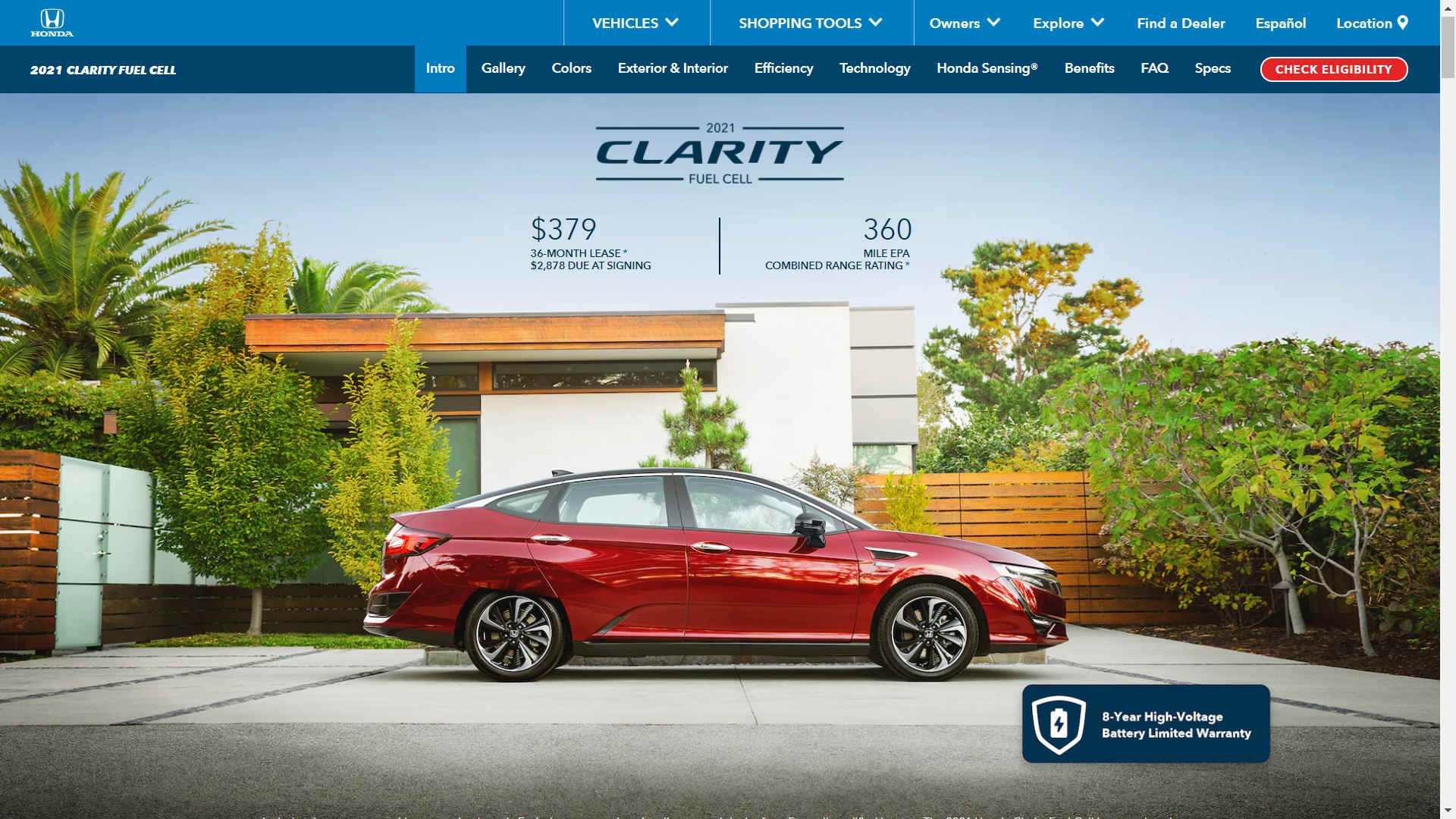 A FCEV, is an electric vehicle that is powered by a hydrogen fuel cell. FCEVs and the associated refuelling infrastructures are currently in the very early stages of market introduction.
The Honda Clarity specifications:
Purchase Cost (Lease): $379

Honda dealers claim that compared to other fuel cell vehicles, the Clarity Fuel Cell features a luxurious, comfortable interior made from approximately 80% eco-conscious materials.

It's also smoother, quieter and more exciting to drive, due to its independent suspension, aerodynamic 18-inch alloy wheels and specially designed sport tires. A flat underbody, contoured shape and air ducts ahead of the wheel openings enhance aerodynamics and reduce turbulence. This helps the Clarity receive an EPA range rating of 360 miles - approximately 50 miles higher than the closest competing fuel cell sedan's ratings - and best-in-class fuel efficiency.

The Clarity Fuel Cell is available for lease at $379 per month for 36 months with $2,878 due at signing. The lease includes several unique benefits, including up to $15,000 of hydrogen fuel for the 3-year lease term, and up to 21 days of complimentary Avis luxury car rentals.

The vehicle's hydrogen fuel tanks are mounted securely in the subframe. They are designed to meet numerous stringent global safety standards and constructed with a high-tech aluminum wound in carbon fiber, making them incredibly strong and impact-resistant. Additionally, the Clarity Fuel Cell comes equipped with the Honda Sensing® suite of safety and driver-assistive technology features, including Collision Mitigation Braking System™. The Clarity Fuel Cell also utilizes the next generation of the Advanced Compatibility Engineering™ (ACE™) body structure for improved frontal-crash protection.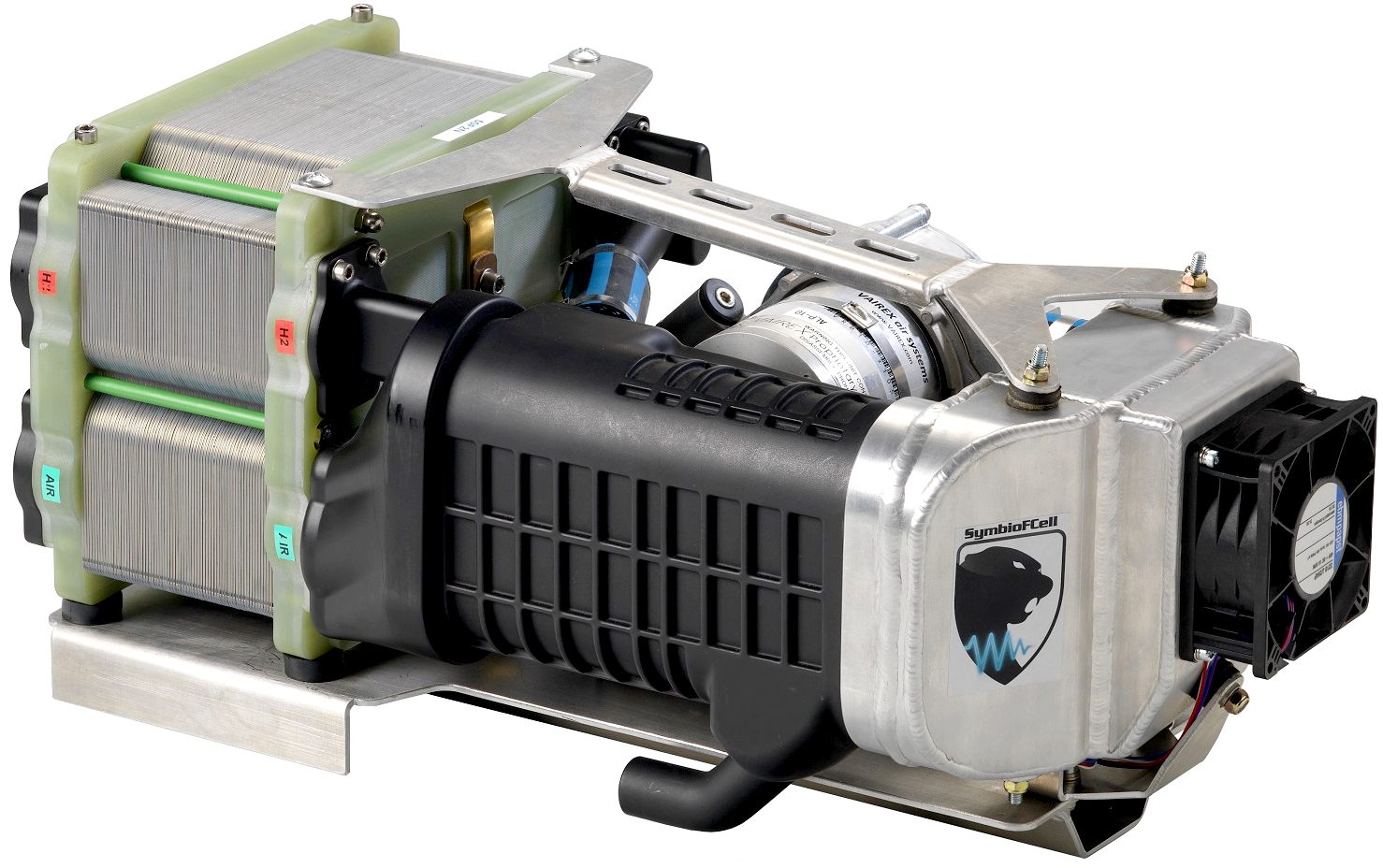 Typically, hydrogen is delivered to a fuelling location in the same way as it is distributed to industry: in pressurized tanks on lorries. However, at suitable sites hydrogen can be produced on-site by electrolysis, in the best case with the aid of renewable electricity obtained via direct coupling (wind/solar), or through grid-balancing services.

The Honda Clarity Fuel Cell houses an advanced Honda-built fuel cell stack in the engine compartment. As a result, the Honda Clarity Fuel Cell sedan is capable of seating five occupants. Its powertain delivers 130 kW and 300 Nm maximum torque. The Clarity Fuel Cell offers a generous range of 650 km (NEDC) with hydrogen stored at 700 bar.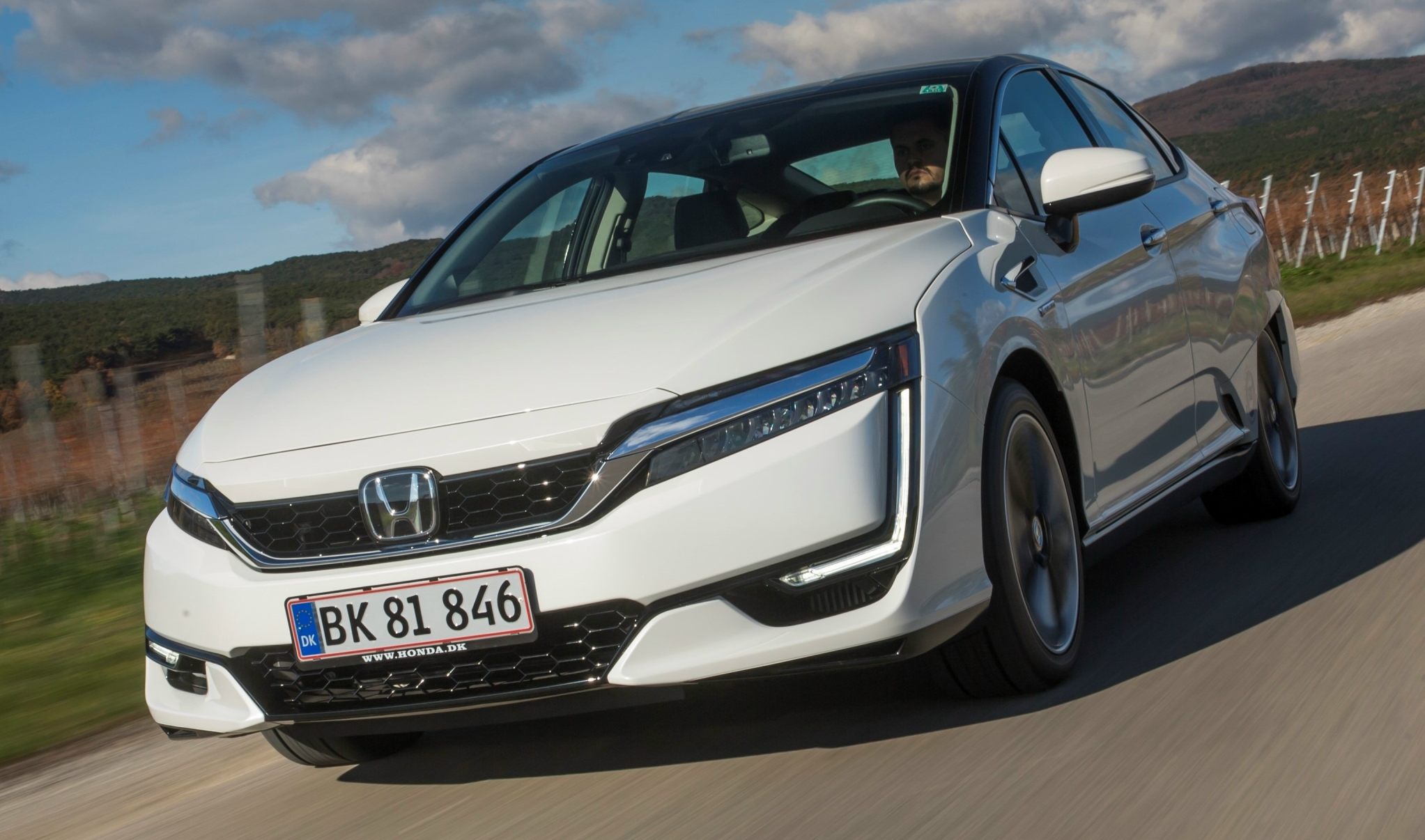 Hydrogen power is the next stage of sustainable development for electrics, by extending range significantly for passenger vehicles and making the practical operation of long range heavy goods vehicles possible. But what about when a fuel cell breaks down? Roadside recovery will take you to the nearest garage for a conventional FCEV, but with the SmartNet™ Universal system, you can have a replacement fitted in a couple of minutes and be back on your way.
.
Please use our A-Z INDEX to navigate this site or see HOME
This website is provided on a free basis to promote zero emission transport in Europe and Internationally. Copyright © Climate Change Trust & Universal Smart Batteries 2021. Solar Studios, BN271RF, United Kingdom.